MADE IN USA WITH USA MATERIALS
"The General" features the following:
- 2x3 11 Gauge Steel Uprights
- (2) 1-1/4" Diameter Pull Up Bars
- 34" Working Depth Between Uprights
- 2" Hole Spacing Starting 11" from the Bottom
- Total Footprint: 86" x 56" x 48" 
- Powder Coat Finish
- Laser Cut Logo and Symbol
- Pin/Piping Safeties 
- Bolted Together With (26) 3/8" x 4" Grade 5 Bolts and Washers. 
- Comes with J-Hooks Available 
- (4) 3/8" Holes for anchors to floor or platform
"The General" is designed to be a durable power rack that does not have to be bolted to the floor (although it can be). Built with the garage gym user in mind; it's footprint, heavy gauge steel and rear stabilizer allow the rack to be free standing. We will contact you upon your order. Shipping is 3-5 days in the continental USA. 
Customer Reviews
The Strength Co = Highest Quality People, Product, and Service
In late August 2020, after reviewing many alternatives from larger more widely known suppliers, I decided to purchase "The General" power rack from The Strength Co. I ordered it in the morning and it was ready for me to pick up that afternoon! (That's awesome under any conditions, and phenomenal during the COVID lockdowns). Grant and his staff loaded it into my truck, and I set it up myself in my garage gym in about an hour. Now having used it most every day since (I'm writing this in October, 2020), I've found it to be a very solid and versatile piece of equipment that I expect will last me for the rest of my life and beyond. It's also worth noting that had the opportunity to do a coaching session with Grant at one of his gyms before I bought "The General". In addition to being a motivating and insightful coach, Grant was also very patient and transparent in describing the pros and cons of "The General" and alternative racks, how best to use such equipment, why certain accessories were necessary and others less so, and it was clear he was squarely focused on making sure he and The Strength Company would provide lasting value to each individual customer including me. He has succeeded with me, and I'm confident he will enhance the quality of many people's lives as The Strength Company expands.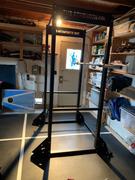 Always the best from The Strength Co.
My first exposure to The Strength Co. was a drop-in session while travelling to Orange County for work. Grant helped me schedule a training session, and Mike coached me. The quality of the gym and the coaching was top notch, as expected when training at a Starting Strength affiliate gym by an SSC. The rack is no different. The materials are high quality. The design is simple, and I was able to assemble it by myself in about 40 minutes, just using the pictures on the site as a reference and the holes as a guide. Almost all of my work sets on squat are 4+ plates, and despite the floor underneath being unlevel, I never have an issue with instability from the rack. The customer service from the team was also excellent. I had several questions prior to purchase and received immediate responses in a chat session. I ordered the rack over a weekend, and it arrived before the next Friday. Yeah, you can go to the big players, but why would you? Get an American made rack, get it when you need it, and keep training.