The Strength Co. Aluminum Olympic Lever Clamp Collars
Made in The USA of extruded aluminum, our clamp collars are simple, fast, durable and rust resistant.
The design of the collar is very slim, taking up only one inch of space on a bar sleeve, and weighing only a pound total for the pair. 
The adjustable lever clamp design makes them compatible with any Standard Olympic Barbell Sleeve.
Specs:
- Made In USA
- Sold In PAIRs
- Made of Solid Aluminum with rubber inserts.
- Weight: 1 lb. (pair) | 0.5 lbs (individual)
- Rust Resistant
Customer Reviews
04/02/2021
Genelle G.

United States
They're Gorgeous AND functional
These collars make my old, beat up, bent, bar look like a million bucks AND plates are not MOVING anywhere! TIGHT GRIP Excellent Product!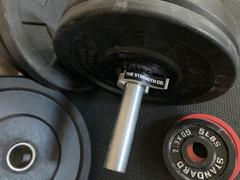 03/16/2021
Josh

United States
High quality, strong collars
Beautiful, solid design. Love them!
03/15/2021
Pete T.

United States
The greatest collar locks I've ever used.
If Barbell Jesus were to design a collar lock, it would be these. Not only are they aesthetic, but they grip the bar as if Grant himself was there with his manly grip, holding on to the bar and keeping your plates from sliding around, while whispering "don't take it to Pin City!" in your ear. Quick to get on and off, they did not walk or even budge through sets of deadlifts or power cleans dropped from the shoulder. After purchasing these, my GME stock went up 300%. Coincidence? I don't think so. They look so good I got a compliment from a woman on the platform next to me. This lead to us dating, marrying, and I now have three kids with her. All owed to The Strength Co. collar locks. If you don't buy at least one pair of these, the communists win.