"The Captain" - American Made Steel Squat Stands.
In stock now and ships within 24 hours.
Our Barbell Squat Stands Come in three variants:
1) With steel barbell bolts for hooks.
2) With UHMW lined steel J hooks.
3) Fully Loaded - with J-hooks, Stabilizer (connecting the uprights) and Spotter Arms
--------------------------------------------------------------------------------------------
The ultimate space saver home gym set up that can be used for the squat, press, and bench press.
Each stand is 6 feet tall and 36lbs making it easy to move around and store in tight areas. We have tested the stands with a barbell loaded up to 750 lbs. 
Manufactured in California with American materials. 
We ship this item throughout the US and Canada using UPS / FedEx Ground .
Specs:
Each stand is 72" tall with a  16" x 30" base. 
Holes begin 7" from the top of the stand and are spaced every 3" until 11" from the bottom. There are (18) total through out the rack.
Steel Bolts (pins for barbell) are 3/4" x 6" long with a 1" washer for the bar stop. 2 bolts are included with purchase.
Customer Reviews
Awesome!
I've been weight training for 20+ years and have to say this squat rack is legit! I bought the stabilizer and had it anchored to concrete in garage for added safety. I got my four 25lbs plates from Strength Co so wtg on the 45s, 10s, and 5s to complete garage gym (have Olympic barbell from Strength Co as well). Already had set of 45s and 10s so "maxing" right now is at 255lbs. Squats, bench, shrugs, presses, etc. are easy to do now and the Captain has certainly taken the abuse so far. Great work Strength Co.! Nothing like hearing metal clanking after 6 months!
Just right!
I knew I needed to get strong and also knew the gym wasn't the right place for me. I really wasn't sure what I needed to get started and then I heard about Grant at The Strength Co and his made in USA equipment. I have a small space (only 9 X 11) and wanted something I could easily move and put away if needed and the Captain was just right! It was easy to put together and is very well made. I am glad to support a veteran owned company and made in USA equipment!!! You won't go wrong with this purchase! (And don't forget Zoom coaching if you can't get to the gym like me!)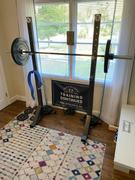 Great stand!
With very limited space, I needed an independent squat stand for my home gym but everywhere else was out. Found the Strength Co. and tried em out. Got it yesterday and love it! Easy assembly and great product :)
Solid Independent Squat Stand
What can i say! Awesome squat stand. Awesome customer service. Awesome people. If the squat rack ever came with a pull up bar accessory i would be set! Keep doing what you're doing.